Vitalant Fair Oaks Blood Donation Center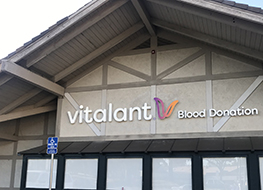 Address
11713 Fair Oaks Blvd.
Fair Oaks, CA 95628
(877) 258-4825
Schedule now
Hours
7:30 am-3:00 pm

8:15 am-6:00 pm

7:15 am-6:00 pm

7:30 am-3:00 pm

7:30 am-3:00 pm

7:30 am-2:15 pm

7:30 am-1:30 pm
The Vitalant Fair Oaks blood donation center is located at 11713 Fair Oaks Blvd., Fair Oaks, CA 95628. The center serves northern California blood donors in Fair Oaks, Orangevale, Citrus Heights, Gold River and Rancho Cordova.
Located in the Almond Orchard Shopping Center, this blood donation location has free parking including accessible parking spaces right in front. Types of donation offered are whole blood, platelets, plasma, Power Red (double red) and source plasma.
Donating blood in Fair Oaks, CA, is safe and easy to do, and it can help save lives. Whether you give a whole blood, platelet, plasma or Power Red donation, your donation can help someone in need—and make a huge difference in your community. Our Vitalant Fair Oaks blood donation center needs blood donors of all blood types, so if you've never donated before or haven't in a while, we hope to see you soon.