Vitalant Roseville Blood Donation Center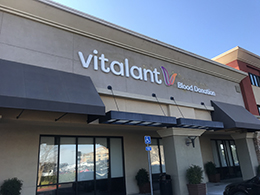 Address
10529 Fairway Dr., Ste 100
Roseville, CA 95678
(877) 258-4825
Schedule now
Hours
7:00 am-3:00 pm

11:15 am-6:00 pm

5:45 am-6:00 pm

6:30 am-2:00 pm

7:30 am-3:00 pm

7:15 am-1:30 pm

7:30 am-1:30 pm
Vitalant's Roseville donation center at 10529 Fairway Drive, Suite 100, Roseville CA 95678, serves the northern California communities of Roseville, Rocklin and Lincoln. One of our newer locations, Roseville is easy to get to, right off highway 65 behind the Chevron station.
The location has lots of free parking, including accessible parking. Donation types collected at Vitalant Roseville donation center are whole blood, platelets, plasma, Power Red and source plasma.
Blood donation in Roseville, CA, is safe and easy to do, and it can transform the lives of others. Thousands of people in the U.S. need blood transfusions every day. Help meet this need by giving blood near you at a Vitalant blood center today. Schedule an appointment to give back to your community in a meaningful way!